Apr 7
2021
Teen Nurses Burned Rescue Horse To A Blue Ribbon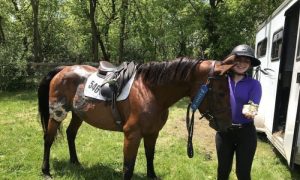 When Avery Carlson rescued a severely burned horse from a kill pen in Oklahoma, she never thought that horse would become well enough not just to ride, but to win a blue ribbon in competition. But under Avery's guidance, that's exactly what happened.
A resident of Harvard, Illinois, Avery, 18, is a graduate of Marian Central Catholic High School with plans to attend college. Avery's first horse, at age 8, was a 40-year-old appaloosa mare. At age 11, Avery began showing horses, racking up wins in hunter/jumper, including the James Bolen Memorial Hunter Derby Trophy and the Champion Junior Hunter at the Chicago Festival of the Horse. Her love of horses led her to begin rescuing and rehoming horses from auctions and feedlots.
To date, she has rescued 20 slaughter-bound horses, including the now award-winning Emma.
Avery first spotted Emma on a Facebook page featuring kill pen horses in Oklahoma. She fell in love with the severely burned horse and arranged to purchase her from the then-owner who helped rescue Emma. The cause of her burns is unknown. There are theories ranging from a lightning strike to abuse to a wildfire. No one knows. She simply showed up at auction in horrible condition, very thin with burns and was sold to a "kill-buyer."
With her family's help, Avery brought Emma home in March 2017 and started her on the road to recovery.
Avery took on a large part of the care for Emma with the help of her father, veterinarian Jim Carlson, DVM, CVA, CVTP, of Riverside Animal Clinic & Holistic Center in McHenry. They used a cream used by humans to treat Emma's burns while Jim treated Emma with cold laser treatments to dry up inflammation and oozing wounds, and helped the horse manage her pain.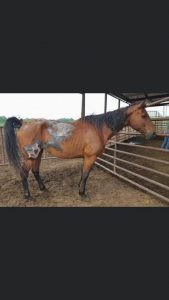 After a year of treatment, Emma's burns began to heal, although she was left with deep scarring in the fascia and muscles in her right hind flank and on her right side. Over time, Avery broke Emma to ride and taught her how to walk trot and canter with a rider.
During Emma's recovery, Avery discovered that Emma loved to be groomed and pampered. But there was more than that to Emma, whose DNA revealed that she is a quarter horse, Lippizan and Hanoverian cross. Emma was a smart horse that needed to engage her brain. That's what led Avery to start training Emma to compete.
"Emma has a strong personality and loves people to look at her," Avery said, adding that Emma seems to love going to new places. "By training her to compete," Avery said, "she will get out and enjoy new environments, which enriches her life."
After scoring a blue ribbon at her first horse show, Pepper's Legacy Horse show in Harvard, Ill., it's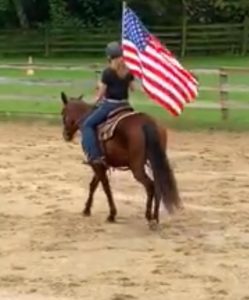 clear that this injured horse may have been down, but she was never out. Avery hopes her story will show how much life so many horses have yet to live.
She worries about the fate of horses like Emma given current controversies over buying horses from kill buyers, a practice that rescues horses but also lines kill buyers' pockets. The controversy has led to Facebook shutting down sites like the one where Avery first spotted Emma, and inadvertently led to an increase in horses being sent to slaughter.
For now, Avery is enjoying her time with Emma and hopes her story will lead to more horses like her getting a second chance at life—and maybe even a chance at a blue ribbon.