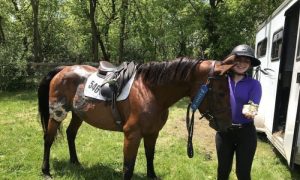 When Avery Carlson rescued a severely burned horse from a kill pen in Oklahoma, she never thought that horse would become well enough not just to ride, but to win a blue ribbon in competition. But under Avery's guidance, that's exactly what happened.
A resident of Harvard, Illinois, Avery, 18, is a graduate of Marian Central Catholic High School with plans to attend college. Avery's first horse, at age 8, was a 40-year-old appaloosa mare. At age 11, Avery began showing horses, racking up wins in hunter/jumper, including the James Bolen Memorial Hunter Derby Trophy and the Champion Junior Hunter at the Chicago Festival of the Horse. Her love of horses led her to begin rescuing and rehoming horses from auctions and feedlots.
To date, she has rescued 20 slaughter-bound horses, including the now award-winning Emma.
Avery first spotted Emma on a Facebook page featuring kill pen horses in Oklahoma. She fell in love with the severely burned horse and arranged to purchase her from the then-owner who helped rescue Emma. The cause of her burns is unknown. There are theories ranging from a lightning strike to abuse to a wildfire. No one knows. She simply showed up at auction in horrible condition, very thin with burns and was sold to a "kill-buyer."
With her family's help, Avery brought Emma home in March 2017 and started her on the road to recovery.